Truman D. Godwin
AUGUST 17, 1931– DECEMBER 4, 2020
This site is a tribute to the legacy of Truman Dayon Godwin
Truman was born in Vernon, Texas in 1931. After graduating from Lubbock  High School in 1948, he attended Texas Tech University in Lubbock, Texas  where he majored in Electrical Engineering and Economics. He also studied British Literature and Business Law at the University of Texas.  Truman was a Korean War veteran, and he was in the Telecommunications  business for 52 years before retiring. He leaves behind his wife, Nancy, six children, and ten grandchildren. His favorite diversion was golf.
His published works include: The Heritage of Luke, 666, and The End of  the Row; a book of short stories, The Treasure of Chama Valley; a book of poetry, Beyond the Hedgerows; other miscellaneous magazine publications.
He received the rights back to some of his books, and re-released them  on his own and published them in Kindle and eBook editions also. Some of  them he changed the names and covers.
Find all of his books listed below.
Old Friends and Memories
One of the joys of growing older is the opportunity to meet another  older person, or to observe two older people for the first time. Often  such meetings are experienced with a mutual aura that both deserve  respect and admiration because of the roads they have traveled and the  experiences they've had, This is a master copy of all my life's work in  poetry.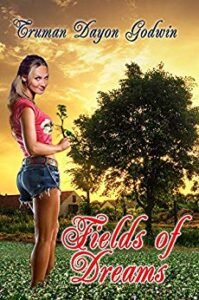 Fields of Dreams
Farmer Drury Bell faces bankruptcy because of a series of crop failures  and bad weather.  As he struggles to save his farm, his physical and  mental capabilities are tested to the limit by plotters and opportunists  out to destroy him.  But his worst problem is caused by a drifter who  plays up to his beautiful wife while Dru works desperately to save his  land, help a policeman friend in a serial murder investigation, and deal  with the mystery of a woman's body found buried in his backyard.  Not  even Dru could predict the twists and turns of the ending.  This book is  based on a true story.
The Cockeyed Bull and The Perky Poodle
This book is more than a collection. It is a composite of "customer  appreciation." I have put together a number of short stories from my  "reader feedback" information, in which readers have expressed  their  preference for some of my previously published stories. Then I have  added a number of newly written, never before published stories, which I  believe readers will find as entertaining as the favorites they have  shared with me. I invite you to relax and enjoy my latest book of short  stories. Truman D. Godwin.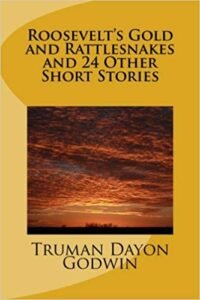 Roosevelt's Gold and Rattlesnakes and 24 Other Short Stories
This book is a revision of and update for one of my previous novels entitled THE TREASURE OF CHAMA VALLEY.
Secret  loves, unrecognized prejudices, illogical fears, and crying needs are  often hidden in  human hearts and minds In each person, these feelings  and emotions exist simultaneously with an untested potential for  cowardice or heroism in the face of adversity. Whether an unexpected  problem is major or minor makes no difference to one obsessed with these  crippling attributes, the reaction will usually be weak and ineffective  and quite possibly make matters worse. On the other hand, there are  some who find extra strength and courage to deal heroically with  circumstances that seem impossible to resolve. Whether discouraged to  the point of despair or inspired to persevere, there is a story to tell  for each one of them.  It has been my pleasure to delve into the hearts  and minds of my characters and present to my readers a variety of people  and situations that will both surprise them and entertain them.
The Pursuit of Inspiration
INSPIRATION!
A feeling that comes upon us, usually without  solicitation, and which can influence our moods and behavior in  mysterious ways. They can force a change in habits, or a re-evaluation  of values, or the achievement of extraordinary goals. Whether  intentionally used or not, inspirations are driving forces in our lives  that are always available to us in one form or another.

Parachute, Pray, or Laugh
Exploits of the New Psychological Warfare Unit (Psy-Warriors) in the  Korean War: Join the crew of Psy-Warriors in actual flights as they make  military history as a Special Operations Wing of the US Air Force.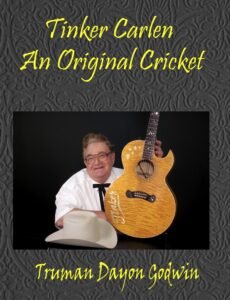 Tinker Carlen: An Original Cricket
Tinker Carlen: An Original Cricket This is a short biography of Tinker  Carlen, a guitarist and singer in the world-famous Cricket band. It is a  story of the origin of the Crickets and Tinker's involvements from the  very beginning when Tinker, Buddy Holley, and other young musicians got  together to "make music and entertain." It is Tinker's story, not a copy  of anything that's been written about the evolution of the Crickets its  individual members or of their successes and failures. Some of Tinker's  life experiences are related as he remembers the challenges of pursuing  a musical career Also included are many experiences of the band — some  funny, some sad — as each member faces the problems of growing up and  the unexpected cultural problems from people who didn't approve of their  "rock-a-billy" style of music.

The Big Texas Property Tax Rip-Off    
In 1937, only 30,194 Texas State residents, which was only 8.56% of  eligible voters statewide, passed an amendment to the State Constitution  which set the stage for a "plan" to encourage payment of ad valorem  taxes which "opened the door" for future legislative control of property  taxes. Over time this "foot in the door" legislation has been seized  upon by State Government to modify and strengthen it by various legal  and legislative maneuvers to increase the power of State Government. The  consequence of this long history has been an erosion of property  owners' logical and reasonable rights to plan and participate in  property ownership without dishonest and overbearing government  interference in the matter of fair and honest taxation.(ad valorem means  "according to value").
The "death knell" of honesty and  fairness in the matter of property taxation was dealt by the Legislature  when on January 1, 1982,  254 Appraisal Districts in Texas were  created, one for each County. This gave these newly unelected groups the  power to set property taxes, and disallowed the properly elected County  Tax Assessors and Collectors from further duty in that respect. This  not only opened the door for terrible abuses by free appraisers not  beholden to an electorate, it also added a hugely increased burden to  taxpayers who have to divvy up MORE tax money each year to support 254  appraisal offices (buildings, furniture, equipment, and staff)  throughout the state.

This book gives an accurate and unbiased  analysis of the State's continuing rip-off in property taxes. It is a  State which could, just as easily, use good judgement in the matter and   go to an "honest" method of property taxation. Such a straight-forward  approach would promote stability in the real estate market, and  relieve  taxpayers of the undocumented and on-going abuses of 254 separate  appraisal offices whose individual performances are not closely  monitored. It would also restore some confidence in a legislature grown  too cowardly to do the right thing for its constituents, and—overall—would be influential to a healthy economic mantra for the  State.

Six Words to Happiness: My Way
Do you like inspiration? Would you like to maximize your contentment and  happiness? If so, this short booklet SIX WORDS TO HAPPINESS: MY WAY may  be useful to you. It can even be a life-changing motivator to you, as  it has been to others. Check it out.
Ruminations of an Old Codger
I have been fortunate to have a long life that, although hard at times,  has been good, productive, and adventurous. When my children asked me to  do an autobiography, I had misgivings about such a difficult and  comprehensive project. So  I consulted my good friend, confidante, and  mentor, Mr. Wiggins, and this is what he advised:
"Don't even try it! Your life's valleys and mountains are too many;  they are too deep to explain or document with the clarity and literary  expertise such a massive effort deserves. Don't try to put the work into  a particular genre. Instead, do your best to remember the results of  your experiences and record some humor, some important thoughts—good  or bad—some wisdom, and perhaps some practical lessons you gleaned  from your experiences. Be at ease with yourself! Let your mind walk  through your remembrances gently and with compassion as you share some  worthwhile, perhaps inspirational, aspects of your eventful journey to  longevity. You could title the work:
RUMINATIONS OF AN OLD CODGER.

Expectations

A young boy grows up during the difficult days of the Great Depression,  where he faces many problems and choices that conflict with his  perception of what he and other people might normally EXPECT. From his  own unique experiences, and by observing people's actions and behavior,  he recognizes the anomalies inherent in EXPECTATIONS, which make life  unpredictable, funny, and often interesting. His study of expectations  lead him to develop a happy philosophy that makes him strong in dealing  with his young years in difficult and oftentimes sad situations.
The Heritage of Luke
Upon the sudden, untimely death of her father, Amy Sinclair learns of a  curse that has doomed the males of the Sinclair family for more than two  hundred years. Determined to remove the threat to any children she  might have someday, Amy begins a search for a woman who can remove the  curse.
Amy's Journey takes her to Haiti, into the heart of a world  she never knew existed, where the ancient practice of Voodoo becomes  both a dangerous threat and a promise of release from the curse of  death. This gripping tale offers back-to-back chills, terrors, and  surprises as Amy risks her life to find the key that will unlock the  deadly secret of The Heritage of Luke.
666
Jonathan Irons has been given great power ostensibly from God.  He does  not want such power.  He wants only to continue teaching in the  small-town high school.  Events force him to use the power, so, with his  beautiful, self-appointed assistant, Luci, he decides to reform  government, starting in Congress and continuing through a dysfunctional  Supreme Court. At Jonathan's moment of triumph, a terrorist attack on  Washington, D.C. seems destined to lead to Jonathan's downfall.   Jonathan's surge toward final victory amazes his foes and allies alike.